CLEAN BEE FLOORING AND UPHOLSTERY CARE SERVICES
"AT CLEAN BEE OUR GOAL IS TO PROVIDE THE BEST SERVICE TO OUR CUSTOMERS AND OUR COMMUNITY."
~David Meintz, Owner Clean Bee Flooring and Upholstery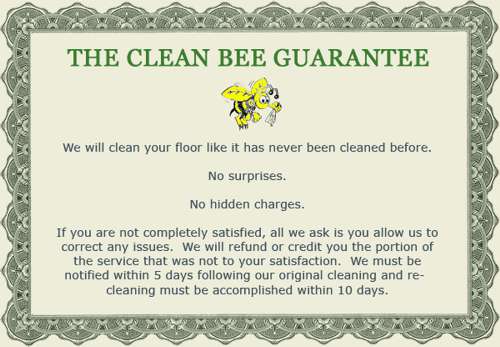 THE CLEAN BEE PROMISE
Be polite and respectful to you, our valued customer.
Respect the environment in which we are cleaning.
Provide a knowledgeable and uniformed technician to perform all work. We do not use sub-contractors.
Use only the highest quality materials and equipment.
Guarantee our work 100%.
The carpet cleaning and floor cleaning services we provide are in accordance with all major flooring manufacturers specifications and the Institute of Inspection and Cleaning Restoration Certification Standards. It is important that we follow their strict recommendations and standards in order to preserve the warranties placed on the products they manufacture.
Request a Quote
Request a FREE estimate for any of our cleaning services.
Get Started!
Clean Bee
Flooring & Upholstery Care
542 West Rand Road
Lakemoor, IL 60051
CustomerService@cleanbee.net
(815) 578-0233
Customer Service Hours
Monday thru  Friday -  8AM - 5PM
Saturday -  8AM - 3PM
Sunday -  CLOSED
Cleaning Studio Hours
(For Rug Pick Up & Drop Off)
Wednesday & Thursday  - 10AM - 2PM
Friday - 10AM - 5PM
Saturday -  8AM - Noon
Sunday -  CLOSED
Copyright © 2016 Clean Bee Flooring & Upholstery Care.
Web Design by Modern Yellow®